How To Configure The Port Forward
What do you need help with?
Port forwarding is the process of configuring a router to make a computer or other network device that is connected to it accessible to other computers and network devices from outside of the local network. Port forwarding uses an IP address plus port number to route network requests to specific devices.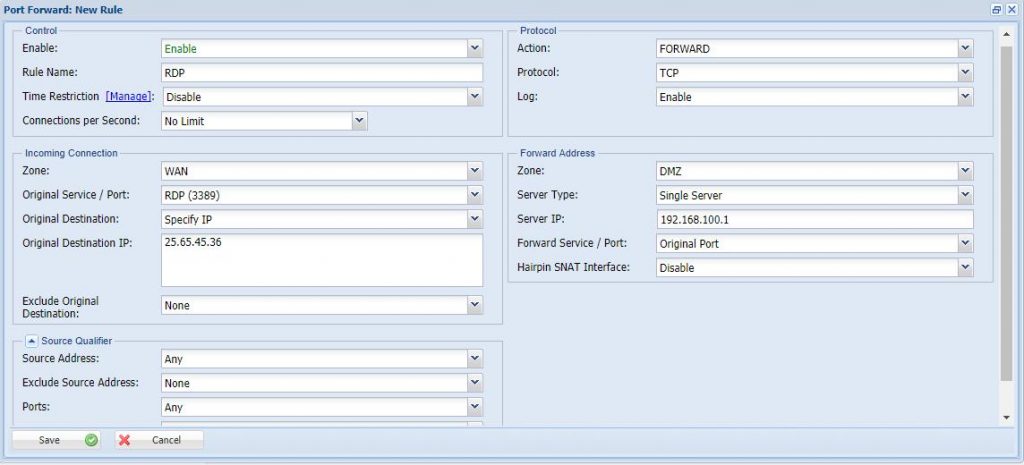 Step 1: Login to the Tacitine. (If you are configuring the Tacitine for the first time, the default Lan IP is http://192.168.100.1) and default username: admin & Password: admin99
Step 2 : Click the Configuration > Firewall/Nat > FilterRule > Add
Step 3: Protocol Action: Forward / Intercept  depends on user request and Protocol: make it TCP/UDP and If u need Log enables
Step 4: Incoming zone: This field is mandatory and specifies the source zone criteria for the rule. In other words, this rule will be applied on the connection request only if the source zone and other parameters defined in the rule match with the connection request and the  Original Services Port: 3389 Original Destination: mention the Wan IP address for eg: 25.65.45.26
Step 5: Forward Address: This Field specify the Zone / Specify Ip  and forward Port: original  or specified port
Step 6: Save > Restart Service