How to Configure the Hotspot Usage Plans
What do you need help with?
Hotspot postpaid usage plan is used to manage user upload and download bandwidth speed and user data quota and time frames.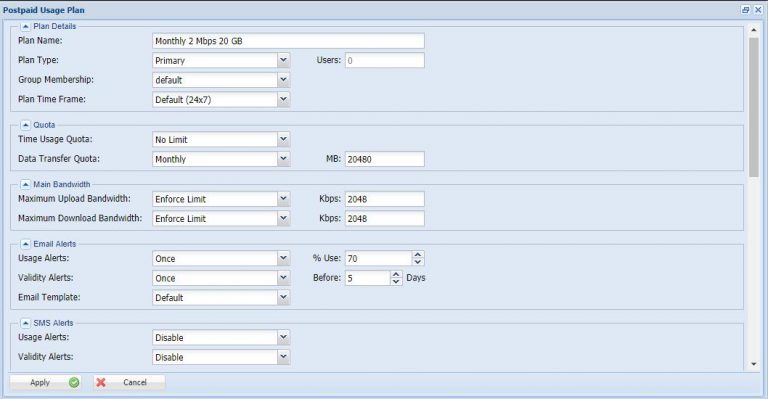 1. Goto Configuration > Hotspot tab.
2. Click the  Postpaid Accounts –>  Usage Plans  –> Add
3. Mention the plan name for your reference. Ex: Monthly 2mbps 20gb
4. Select the Plan type as Primary, so that user can assign as a primary plan otherwise choose to extend it should be a FUP PLAN.
5. Mention the time quota and data quota based on user requirements.
6. Mention the upload and download bandwidth speed in kbps.
7. Configure email and SMS alerts to the users for usage alerts and validity alerts.(SMS gateway is required for SMS alerts)
8. Select the pop status template. ex: Default
9. Mention the payment type as postpaid.if you choose postpaid invoice is generated every month end, otherwise choose advance paid to get the invoice at the time of renewal.
10. Mention the plan charge and choose price type yourself.
11. Select Apply to complete the primary plan creation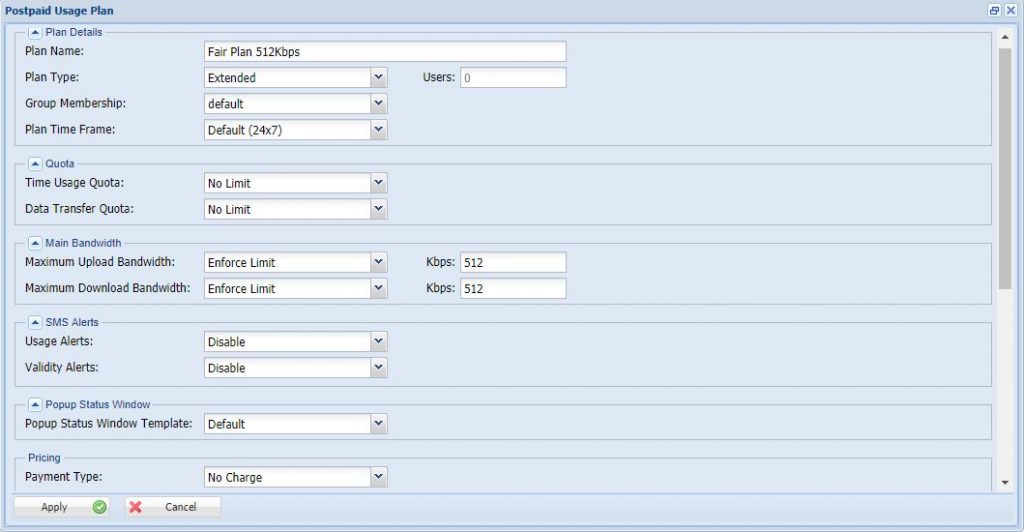 EXTENDED PLAN CREATION SAMPLE
Extended Plan is used to gave Fair Usage plan to the user.
Mention the Plan Type as Extended.
Give the Upload / Download Bandwidth Limit For Post Usage. Ex: 512kbps